We should stop drinking cow's milk. We know that milk doesn't really help build strong bones, can increase our risk of cancers, and can have as much sugar as soda. Even worse, 65% of us actually can't take milk. If you have gas or digestive issues that refuse to go away, you may be lactose intolerant. Some of my patients find their symptoms disappear after two weeks of not drinking cow's milk.
There are many wonderful and healthy dairy-free alternatives. Here are some types of milk I use on a regular basis along with a recipe that uses each of them.
Things to Watch Out for in Non-Dairy Milk Alternatives:
Non-dairy milk alternatives are processed foods and dangers can lurk in foods that come from factories. Unless you make them yourself, here are points to watch out for.
1. Sugar content
Make sure you check the sugar content. I don't recommend any milk with more than 5 grams of sugar per 100 calories of the beverage.
2. Be cautious of carrageenan
Check the labels for carrageenan and avoid it. Carrageenan is used to thicken many of these products but has been found to cause inflammation. This is bad news. We know that chronic inflammation is a root cause of many serious diseases including heart disease, Alzheimer's and Parkinson's diseases, and cancer.
Dr. Tobacman has published 18 peer-reviewed studies that address the biological effects of carrageenan and is convinced that it is harmful to human health. She said that in the past, drug investigators actually used carrageenan to cause inflammation in tissues in order to test the anti-inflammatory properties of new drugs. And she reported further that when laboratory mice are exposed to low concentrations of carrageenan for 18 days, they develop "profound" glucose intolerance and impaired insulin action, both of which can lead to diabetes.
I recommend avoiding regular consumption of foods containing carrageenan. This is especially important advice for persons with inflammatory bowel disease.
6 Cow's Milk Alternatives to Try at Home (+ Recipes)
1. Almond Milk     
Almond milk is one of my favourite milk alternatives, both for taste and health benefits. Each cup contains a good amount of monounsaturated and polyunsaturated fats which are good for the heart. Rich and creamy, almond milk is made by blending almonds in water and sieving out any solid particles.
For those looking to lose weight, try almond milk – it has only a third of the calories of cow's milk.
Recipe: Rice Pudding with Almond Milk
Source: FoodHero.org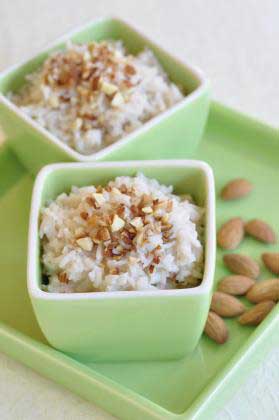 Ingredients:
1 cup brown rice
3 cups almond milk
1 tsp vanilla
1/2 tsp cinnamon
3 tbsps organic cane sugar
Dried fruit
Directions:
Combine almond milk and rice in a pot and bring to a boil.
Reduce heat and simmer for 1/2 hours with the lid on until the rice is soft.
Add sugar, vanilla, cinnamon and dried fruit. Stir and serve warm.
2. Coconut Milk
I always find it hard to believe that coconut milk comes from a plant – it's so creamy. Coconut milk is made by using cheesecloth to squeeze coconut flesh soaked in hot water. Abundant in vitamins C, E, B1, B3, B5 and B6, coconut milk can be part of a healthy diet. It does contain a lot of saturated fatty acids, however, so I recommend enjoying it in moderation.
Thick coconut milk is a wonderful addition to sauces and for making desserts. With its rich aroma, coconut milk is an ideal base for smoothies and curries. I also make coconut whipped cream.
Recipe: Raspberry Coconut Smoothie
Source: Creme De La Crumb
Ingredients: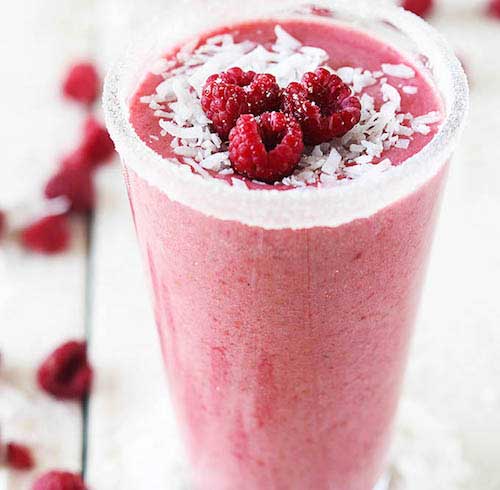 ½ – 1 cup coconut milk (depending on how thick you like it)
1 medium banana, peeled sliced and frozen
1 cup frozen raspberries
optional: shredded coconut flakes, sweetener of choice, to taste
Directions:
Add coconut milk, frozen banana slices and coconut extract to your blender. Pulse 1-2 minutes until smooth. Add frozen raspberries and continue to pulse until smooth.
Pour into a glass, top with a couple of raspberries and a little shredded coconut. Enjoy!
3. Rice Milk
This is the least fattening of all the types of dairy-free milk. Rice milk is also the most hypoallergenic dairy-free substitute – few people are allergic to rice milk.
Be careful about the amount of starch in rice milk. Just like rice, rice milk contains a lot of sugar. One cup of rice milk contains 33 grams of sugary carbohydrates, thrice the amount in cow's milk.  Diabetics should avoid rice milk.
Recipe: Blueberry Vanilla Bean Stacked Pancakes with Blueberry Glaze
Source: Oh She Glows
Ingredients: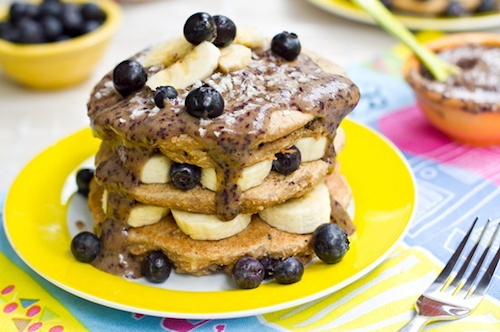 1 cup + 1/4 cup whole wheat flour
1/2 cup shredded, unsweetened coconut
1 tsp baking powder
1/4 tsp baking soda
1/4 tsp cinnamon
Pinch or two kosher salt
3/4 cup rice milk
1 vanilla bean (optional), scraped
1 tsp pure vanilla extract
1-2 tbsp pure maple syrup
3/4 cup warm water
1 cup blueberries + more for glaze (below)
Oil, for skillet
Blueberry glaze:
3/4 cup blueberries processed with 1 banana
Optional:
Shredded coconut, blueberries, maple syrup, to garnish on top.
Directions:
Preheat oven to 250 degrees F. Whisk the dry ingredients (flour, coconut, baking soda, baking powder, cinnamon, and salt) in a medium sized bowl. In a small bowl, whisk together the wet ingredients (almond milk, warm water, vanilla extract, optional vanilla bean, maple syrup) and then add to the dry ingredients. Whisk well until no clumps remain. You can add more milk to thin out the batter as desired.
Preheat the skillet over low-medium heat and add some oil on the pan. Pour 1/4 cup of batter onto the skillet and quickly smooth out a circle with the back of a spoon. Cook until small bubbles appear on the surface and the bottoms of pancakes are golden. Reduce heat if necessary. Transfer to baking sheet and place in the oven to keep warm.
Meanwhile, make your blueberry glaze by processing 1 banana with 3/4 cup blueberries. Stack the pancakes, alternating between blueberry glaze, coconut, sliced banana, and pancakes. Garnish with blueberries. Drizzle with maple syrup if desired. Makes 6 medium pancakes or 8 small ones.
4. Hemp Milk
Creamy and tasty, hemp milk is a good milk alternative at breakfast. It does contain 50% more fat than soy milk, but the fats are mostly 'good fats' such as omega-3 and omega-6 essential fatty acids. Hemp milk is also a wonderful source of iron, the nutrient necessary for delivering oxygen to brain cells.
Recipe: Strawberry Hemp Milk Smoothie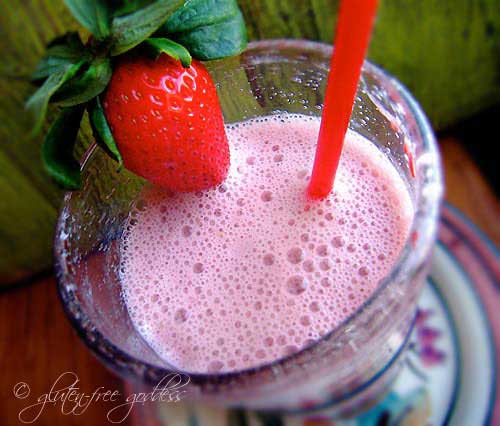 Source: Yummly
Ingredients:
1 cup cold hemp milk
1 cup chilled ripe organic strawberries, sliced
1 teaspoon raw agave nectar, or honey, to taste
Directions:
Pour the hemp milk into blender.
Add the strawberries and agave.
Blend.
Enjoy
5. Goat's milk
I encourage my patients who strongly prefer dairy milk to drink goat over cow's milk. The protein in goat's milk is more similar to the protein in human milk. More people are likely to tolerate the former. Goat's milk also contains phosphorus, magnesium, and the 'good' omega-3 fats.
Recipe: Pumpkin Pie Ice Cream
Source: Minimalist Baker
Ingredients: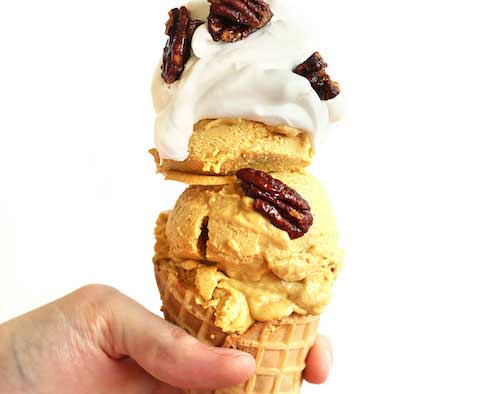 For the ice cream:
1.5 cups raw cashews, soaked for 4-6 hours, or in boiling hot water for 1-2 hours
1 cup goat's milk
3 tbsp olive oil
3/4 cup pumpkin puree
1/4 cup maple syrup
1/4 cup + 2 tbsp brown sugar
1.5 tsp pure vanilla extract
1/4 tsp sea salt
1 1/2 tsp pumpkin pie spice
3/4 tsp ground cinnamon
For the roasted pecans:
1/2 cup raw pecan halves
1 tbsp olive oil
1 tbsp brown sugar
pinch each sea salt, cinnamon and cayenne pepper
Directions:
Set your churning bowl in the freezer the night before to chill. Soak your cashews the night before as well, or for at least 4-6 hours before blending. Alternatively soak in boiling water for 1-2 hours.
After soaking, add the well-drained cashews and remaining ingredients to a blender and blend until creamy and smooth. Taste and adjust sweetness/flavors as needed.
Add mixture to your chilled ice cream maker bowl and churn according to manufacturer's instructions. It should resemble thick soft serve.
Transfer to a freezer-safe container, cover and freeze until hard – at least 6 hours, preferably overnight.
Take out of the freezer and thaw for 30-40 minutes before serving.
For the pecans:
Preheat oven to 350 degrees F and place pecans on a foil-lined baking sheet. Toast for about 8 minutes.
In the meantime, melt butter in a small skillet or in the microwave and stir in brown sugar, sea salt, cinnamon and cayenne.
Remove toasted pecans from oven and toss with the butter and spice mixture. Spread pecans back onto the baking sheet and toast for another 4-7 minutes or until fragrant and golden brown, being careful not to burn the pecans.
6. Soy milk
Make sure to drink organic, non-GMO soy milk. One cup of soy milk contains almost 7 grams of protein, a large amount.
Research is mixed about the effects on soy on cancer. Some recent studies suggest that soy milk actually reduces the risk of breast cancer for some populations such as Asian women. However, the debate is still ongoing. Scientists aren't yet sure of the effects of soy milk on the body. I suggest – as with all foods – enjoying soy milk in moderation.
Recipe: Spinach and Artichoke Dip
Source: Yummly
Ingredients: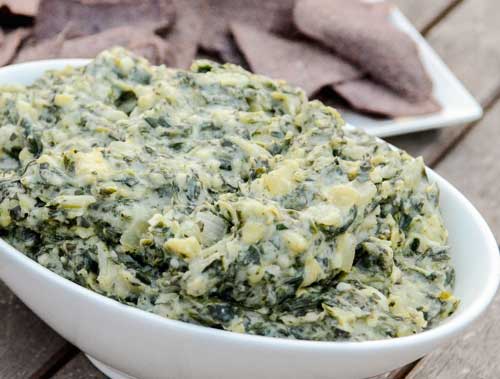 1 16 oz bag spinach
1 can artichoke hearts (in water), finely chopped
1 onion, finely chopped
5-10 cloves garlic, finely chopped
1 Tbsp canola oil (or other neutral oil)
3/4 c. brown rice flour
3 c. soy milk
2 tsp salt
1/2 tsp garlic powder
1/2 tsp onion powder
Directions:
Preheat oven to 350 degrees F.
In a large skillet over medium heat, sauté onions, spinach and artichoke. Add the garlic at the end, leaving it in the pan just long enough to heat and become fragrant.
Set aside the spinach, onion and artichoke mixture. Combine soy milk, flour, oil, salt, garlic powder and onion powder in the skillet. Whisk frequently over low or medium heat until it thickens slightly. This should only take a minute or two.
Combine flour mixture and vegetables in an oven-safe casserole, mixing thoroughly.
Bake uncovered at 350 degrees F for 15-25 minutes until thoroughly heated and the top begins to brown. Serve warm with baked tortilla chips or vegetables. To make ahead, just prepare the mixture and store in the fridge up to a day.
Chew on this
There are many healthy and tasty dairy-free alternatives to cow's milk. Try them – you'll be surprised at how much they grow on you.